Party Bus Tulsa is here to answer any questions our customers have about party buses, charter buses & limousine service. We'll help you plan your next event, from bachelor parties to corporate events. We can also help you find the perfect vehicle for your needs—whether it's a party bus or limo bus to take you around town on the weekends or a charter bus that will take your team across the country for a big game. We also offer services for corporate events like company parties and conferences. We know how important it is to keep employees happy and productive, so we'll help you plan an event that keeps them engaged and excited about the future of your business. Our fleet includes everything from luxury buses with all the amenities of a hotel room (flat screen TVs, WiFi access) to classic vehicles with a retro feel (the kind kids love). Whatever kind of vehicle you choose depends on what kind of vibe you want—but no matter which one we give you, we guarantee it will be memorable!
How Much Does It Cost For A Party Bus?
A Party Bus can range in price based on your needs. Sometimes it's even more effective to get a party bus than a limo, as it seats more passengers. A common rate for party bus is $90 to $250 an hour depending on how many people you plan to bring, pick up and drop off location.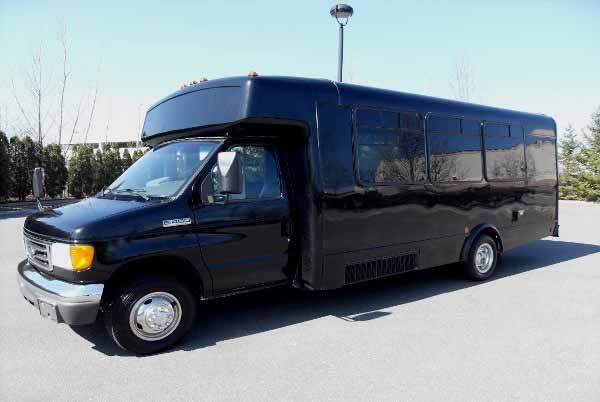 | Vehicle Type | Vehicle Passengers | Hourly Rates* |
| --- | --- | --- |
| 8 Passenger Limo | Up To 8 | $20-$35 |
| 10 Passenger Limo | Up To 10 | $30-$45 |
| 15 Passenger Limo | Up To 15 | $45-$55 |
| 20 Passenger Limo | Up To 20 | $65-$85 |
| 18 Passenger Party Bus | Up To 18 | $85-$100 |
| 20 Passenger Party Bus | Up To 20 | $100-$120 |
| 22 Passenger Party Bus | Up To 22 | $120-$140 |
| 25 Passenger Party Bus | Up To 25 | $140-$120 |
| 50 Passenger Charter Bus | Up To 50 | $160-$200 |
| 56 Passenger Charter Bus | Up To 56 | $200-$400 |
| 36 Passenger Shuttle Bus | Up To 36 | $150-$300 |
| 40 Person Shuttle Bus | Up To 40 | $150-$300 |
What is a Party Bus?
You have a couple options when thinking about a party bus, you can get a Party Bus or a Limo. Both types of vehicles are great options as they can seat from (10 people) to large groups (40-50 people). The party bus is very much like a limo, the driver becomes your own personal chauffeur. There is an array of different types of cars to suit your different taste and the mood for your overall event. Pick and choose whatever style, color and feel you want for your car and have a fun time with your friends and loved ones.
How many people fit in a party bus?
When planning to book a party bus, there are many options to seeing what best fits your needs. There is different kinds and different sizes of vehicles such as a Party Bus, Charter Bus, or a Limousine to safely and comfortably transport your group to your event. A normal sized Party Bus can seat anywhere from 12 to 28 passengers. However, a Limousine or SUV is ideal for 6-12 passengers
Where to go on a party bus?
School Events
Weddings
Birthday Parties
Prom
Night Out With the girls.
Bachelor/Bachelorette Party
Corporate Events
Sporting Events
How much do you tip a limo driver?
When thinking about what to tip your limo driver, there are few things you should keep in mind. To start, think about how was the overall service, timeliness, or the condition of the vehicle you received. A good rule of thumb is to tip about 20% of the price, if the service was overall a great experience.
What size and what type of Party Bus should I get?
When planning to book a party bus, there are many options to seeing what best fits your needs. There is different kinds and different sizes of vehicles such as a Party Bus, Charter Bus, or a Limousine to safely and comfortably transport your group to your event. A normal sized Party Bus can seat anywhere from 12 to 28 passengers. However, a Limousine or SUV is ideal for 6-12 passengers
How old do you have to be to be in a party bus?
If the trip is a nighttime bar event, everyone on the bus must be 21 years of age. The only exceptions are when we are going somewhere that the people under the age of 21 can get into.
What is the average price of a party bus rental?
The average rental price depends on the location, size, amenities and time of year. The average cost per hour is roughly $100-$200 (if the party bus is outfitted with a sound system). The average cost per day ranges from $1000-$1500 (with an additional hourly charge for events that extend past midnight), while an average weekend rental will set you back $2500-$3500 or more. You'll also pay more if your vehicle includes special features like neon lights or TVs in every room! If you want to make sure that your party bus rental experience goes smoothly without any surprises along the way, our FAQs can help answer some of those burning questions about what to expect when renting one for yourself or for an event.
Why are party buses so expensive?
Party buses are a luxury. That's the most important thing to remember when you're trying to decide whether or not you can afford one. You should only be renting a party bus if it's for something special, like an anniversary, birthday, or other milestone event. A party bus is not just any bus that has been converted into a vehicle where people can sit and drink alcohol; it's an active party on wheels! There are many different types of vehicles that may look similar to some people but are actually vastly different from each other in terms of function and service offerings. If you want something cheap with no frills then maybe this isn't for you – but if you want something fun AND classy then go ahead and book one! It might cost more than driving yourself around town in your car but trust me when I say that once inside there'll be no room left over for regretting spending so much money!
How many people can fit on my party bus?
There are a lot of factors at play here, but we can help you figure out the number of people who can fit on your party bus. First of all, consider the size of your bus: if it's smaller than a big luxury limo-style vehicle, that means fewer people can fit comfortably inside. If you're able to find a larger vehicle (like one with rows and rows of seating), then more guests will be able to join in on the fun! If there are several other vehicles involved in your evening plans—such as an SUV or van—then those vehicles could also be used for rides home at night after the festivities wrap up. In this case, consider how many people would be willing to travel from one location to another by car instead of taking their own transportation home from wherever else they went throughout the evening (fancy hotel bar? rooftop hot tub?). For example: If you're hosting an office party for 30 coworkers and have rented two double-decker buses for transportation so everyone gets dropped off safely at their homes afterward, each vehicle will hold approximately 20 passengers when standing room only is considered (and even less if sitting down).
What types of amenities and features are available on a party bus?
Party bus rentals come with a wide array of amenities and features. They're great for weddings, birthdays, bachelor/bachelorette parties and other special events. Here are some of the most popular amenities: Lots of room for your guests – The interior is spacious enough to comfortably accommodate up to 32 passengers. This includes plenty of room for luggage and drinks as well! A TV or two – The interior comes fully equipped with TVs that allow you to play movies or videos from your smartphone or tablet through the vehicle's built-in wireless internet connection. This makes it easy for everyone on board to watch what they want without having to hold their phones up in front of their faces while driving along at high speeds (which isn't safe). It also adds an extra level of comfort that makes traveling more fun than ever before!
How can I decide which party bus to rent for my event?
It can be difficult to know what party bus rental is right for your event. There are several factors to consider when choosing one, including the number of people you want to accommodate, how many will be drinking alcohol, what amenities you need (like a bathroom and music system), and other special considerations. If you're hosting a small group that will be using the bus mainly for transportation between locations on your itinerary, then an economy-sized vehicle like an SUV or minivan might be sufficient. If you're planning a big celebration where most or all of your guests will drink during their time on board, then having adequate space for them is important so they won't feel cramped or anxious about finding seats in front of each other during long rides. If money isn't an issue—or if you're willing to spend more than expected—you may want to opt for something larger like our luxury buses that have plenty of room inside as well as outdoor tables and chairs outside; these are perfect if there are large groups who'd like some fresh air during their festivities but still want access inside whenever needed!
Are there any great deals on party bus rentals in my area?
The best deals on party bus rentals are often found online. There are several reputable companies that offer discounts or special deals to customers who book their party buses online. You can also find great deals on social media, in local newspapers and magazines, and even through classified ads!
How will I know how much space I need on a party bus?
The best way to know how large a party bus you need is to determine the number of people you want on the bus. This is important because it's not just about fitting everyone in—you'll also want to have enough space so that they're comfortable and can move around, especially if you plan on dancing or having games on board. It's easy to estimate this based on past experiences: If your last party bus had room for 20 people, then 20 may be an appropriate number again this time around. But if your last bus trip only fit 10 people comfortably, then perhaps 14 would be better this time around. Keep in mind that as more passengers arrive, it will become increasingly difficult for everyone to comfortably move around and interact with each other—which means less fun! So keep some wiggle room in mind when deciding how many seats are needed for your group size requirements.
Can I rent a party bus last-minute?
It is possible to rent a party bus last-minute, but it's not the easiest process. The best way to rent a party bus last-minute is to call your preferred company directly and ask for availability. It might take some time for them to confirm or deny their availability, so be prepared for that if you need something quickly. If you can't get through with any of your calls, try calling one of their competitors (if there are any) or search online for other companies that provide transportation services in your area. If no one has available vehicles, then your only other option is renting either an expensive limo or shuttle service—which can cost upwards of $300 per hour—or driving yourself in someone else's car!
There are plenty of things to consider when deciding if a Party Bus Rental is right for you
When it comes to party bus rentals, there are a lot of factors that go into making the right decision. You'll want to consider: The size of your party. Is it just you and your friends? Or is it a large group of people? Will everyone be riding together or will you have multiple buses for smaller groups? The type of event you're planning. Are you going on an epic road trip through the mountain passes or is your event taking place at an indoor venue where parking will be difficult and plenty of seating may be required? The number of people who will be on the bus (and their ages). If you're traveling solo, then one seat should suffice; but if there's going to be more than one person per chair, then speakers and tables might become necessary. As you can see, there are plenty of things to consider when deciding to rent a party bus. Consider all the information we've provided here and make sure you know what exactly is included in your rental contract before making any decisions. If you do decide it's right for your event or group, then give us a call and let us book your next big adventure!