Bachelor Party Bus & Limo Service
Party Bus Tulsa is your trusted choice for Limo Service and party bus rentals for your bachelor night events. Our fleet is the best in town and we've won awards for it. Our Hummer limousine is the perfect way to start your night off with a bang, but if you want something a little more laid back, our stretch limousine will get you there in style. And if you're looking for a party bus that can hold more than just friends, then look no further than our Escalade limo or mini buses. We have it all! Party Bus Tulsa has been rated as one of the best companies in Tulsa by several trusted sources. You can trust us to get you where you need to go safely and on time every time. Our goal at Party Bus Tulsa is to be able to provide you with an amazing experience every time you rent from us. We know how important it is for your special night to go off without a hitch, so we make sure that happens by providing only the highest quality service possible. We offer a wide variety of vehicles at affordable prices so that everyone can enjoy a fantastic bachelor party without breaking the bank! Our staff is ready to answer any questions that may arise when booking with us!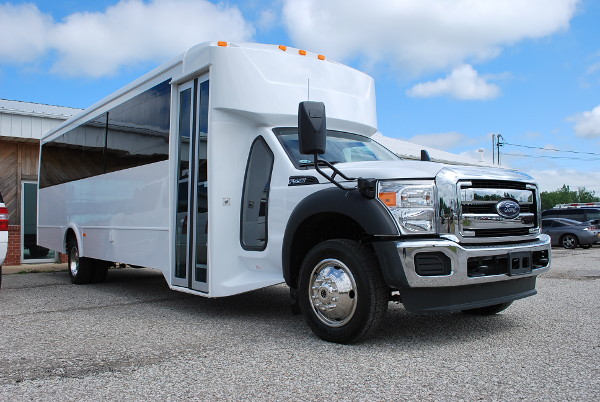 Make Rental Reservation | Check PricingLimos, Party Buses, Shuttles
Our agency offers special bachelor party bus deals in Tulsa. There are diverse party bus rentals on offer from our agency. We specialize in several party buses and limos for hire. These come with different comforts and conveniences as well. For instance, you could hire a party bus from us in celebrating your bachelor party event. These serve as a great alternative to hiring an expensive venue for such an occasion. Most people revel in the amenities on board our luxury coaches. There are refreshments, entertainment, and service as part of our bachelor party bus package. Check out the details and more like limos for rent from our agency catalog.
Bachelor Party Buses & Limo Rentals Near Me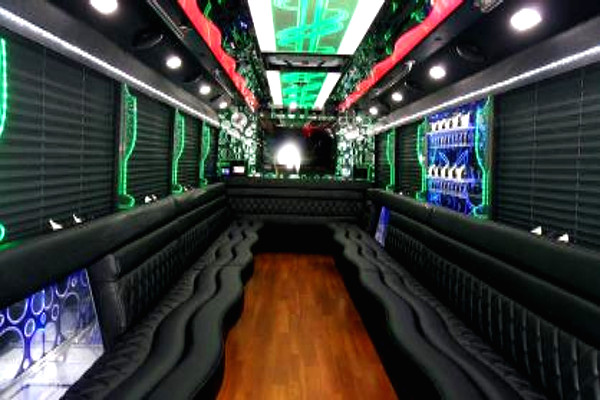 View Party Buses NowParty Buses & Limos
It is easy to avail of our party bus rental Tulsa There are different bachelor party buses to look at from our agency catalog. You could hire any model you find online from our listing in regional rental directories. Simply place a call to confirm a booking. We usually have several rental coaches available for hire.
Customers can choose a ride as per their group travel requirement. For instance, they could book charter buses, motor coaches, shuttle buses and others from our agency. It is best to choose a model as per the seating capacity for passengers. These coaches can accommodate from 14 to 50 in number. You could hire one of our passenger party buses for the bachelor party as well. There are special amenities that come with them.
We offer an extensive range of limos and premier rentals under our limo service Tulsa. There are exclusive models for hire such as BMW, Ford Excursion, Hummer Limos, Chrysler 300, Lexus, Cadillac Escalade or Mercedes-Benz. These could be ridden for weddings, proms and other special events in town.
The limos and shuttle buses prove ideal for small groups. You can get people up to 14 accommodated in these rides. They can be ideal for small bachelor party rides.
Bachelor Party Bus And Limo Service Prices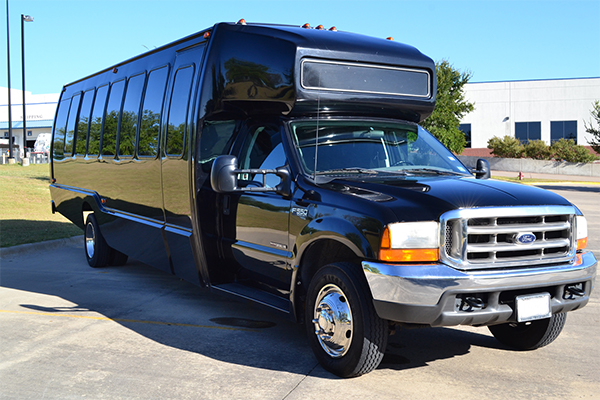 View Limousines NowLimos & Party Buses
Check out our party bus prices and deals on limos. We provide packages that are convenient to hire and come with several amenities to suit varying travel requirements. Check out our discounts on bulk bookings and orders. Our rates vary as per the number of people traveling, amenities for hire, hours or distance to cover and other factors.
Things To Do
There are several places of interest to explore in and around Tulsa such as:
Gilcrease Museum; here western and Native American artworks are on display.
Philbrook Museum of Art; you will find this museum in an ornate mansion with gardens.
BOK Center; here you can catch professional games and concerts.
Visit these and several other areas of interest with our affordable coaches or limos for hire.
Additional Service Areas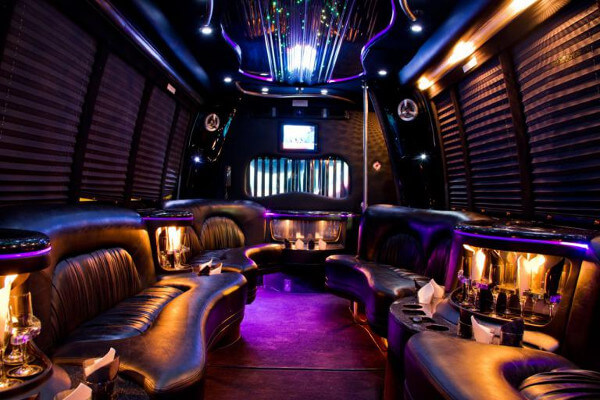 View Party Buses NowParty Buses & Limos
Avail of our bus rentals for trips to travel in and around the region and visit nearby towns such as Ponca City, Claremore, Coffeyville, Sapulpa, Jenks, Broken Arrow or Bixby.
Bachelor Party Bus Tulsa OK
Party Bus Tulsa is your one-stop shop for all of your party bus needs. We are a premier provider of luxury transportation and limousine services in Tulsa, Oklahoma. Our VIP chauffeurs will ensure that you and your group enjoy a safe and reliable ride home from any event. Our company has been in business for over 25 years, which means we have plenty of experience providing our clients with high-quality service at affordable prices.
Why a Bachelor Party Bus?
Some might ask themselves why a bachelor party bus is better than a limo. The answer is simple: The party bus is more economical and allows you to travel with your friends in style. Not only that, but a good number of our party buses have built-in bars for easy access to your favorite drinks. If you are planning on drinking at all during the trip, this will make things much easier for everyone involved! Your driver can stay sober so they don't have any trouble driving the vehicle back home when the night is over.
Why Party Bus Tulsa?
We are the best at what we do, and that's why you should choose Party Bus Tulsa. We have the largest selection of limos and party buses and our prices are the lowest in town. Our customer service is second to none, because we know you'll be back if you're happy with what we do for you. So take a look at all our vehicles, because there's something for everyone!
Selection of Limos and Party Buses for your Bachelor Party
Limo buses are the most popular choice for bachelor parties. If you're looking for a vehicle that will comfortably seat all your friends, give you room to party and not break your bank, then a limo bus is the way to go. Limo buses are great for bachelor parties because they give you plenty of room to stretch out and party while keeping everyone together. Limo buses are the perfect choice if you plan on going out with more than 10 people or if everyone knows each other well enough not to mind sitting next to each other on an eight hour ride! When choosing between our Party Bus Tulsa service and our Limousine Service Tulsa team, there is no right or wrong answer—we can provide both options depending on what best suits your needs!
Bachelor Party Transportation Options
Our company offers a range of bachelor party transportation options, including: Limousines. If you are looking for a more intimate experience with your friends and family, then our limo service is perfect for you. You can enjoy the luxury of our spacious vehicles as well as their service for up to 6 passengers. Party Bus. If you want something that's big enough to fit the whole crew, then our party bus will fit your needs perfectly. With its capacity up to 30 people and additional amenities like stripper poles and neon lights, this is one ride that will be remembered by everyone who steps on it! Charter Bus Rentals & Charter Bus Rental Services- Our charter bus rentals are available in Tulsa Oklahoma and surrounding areas.
What Kinds of Limousines Do We Offer?
Limousines come in many sizes and styles, depending on the occasion they're used for. Some limos are quite large, while others are smaller. Some have couches and other amenities that make them suitable for parties, while others are designed with more formal settings in mind. So when you're looking to book a limo for your bachelor party, it's important to consider what kind of vehicle will best suit your needs.
Most Popular Vehicles Rented for Bachelor Parties
The limo bus is a great choice for those who want to go all out with their bachelor party. This vehicle can hold up to 30 people, so it's perfect for large groups of friends. If you're looking for something a little more low-key, opt for our party bus instead. This option allows your group to take advantage of space that's both spacious and comfortable—and unlike a traditional limo bus, you'll be able to enjoy the privacy of closed windows! Another popular choice among our clients is our classic limousine service. Whether you need transportation from one place to another or would like some added comfort while traveling long distances in style (or both), this option can make all the difference!
Book for Quality Bachelor Party Limo Service in Tulsa
Booking a party bus or limo in advance is the best way to ensure that you get the best deal. The earlier you book, the more options you will have available to you and also the better deals we can offer. For example, if you call us today and ask for 2 buses for your bachelor party weekend, we may not have any available for your date because they have already been booked by another customer who booked them a week ago! If this happens then we would recommend that instead of having just one bus for your group of guys on Friday night, why not book both buses now? Then if one gets filled up with another group then at least there is still another option available should something happen with the first booking (e.g., someone doesn't turn up).
Bachelor Charter Bus Rental Services in Tulsa
A Bachelor charter bus is a vehicle that provides transportation for bachelor parties, which are typically held on the weekend before a wedding. The bus can take you to bars, clubs and other locations where alcohol is served. Some companies also offer strippers to perform during the trip. We offer bachelor party charter buses with different amenities depending on your needs: VIP seating area: If you want to sit together as a group on your ride from venue to venue, choose this option so everyone has their own seat. You'll be able to relax and enjoy the ride without having to worry about finding space for everyone in one room or moving around when someone else wants their spot back after getting off at the next destination! It's great for larger groups who don't want anyone missing out on any fun happening inside or outside of these vehicles!
Plan an Epic Night
Planning your bachelor party is easy. Just follow these steps: Plan the night before. Make sure you have everything you need for the big day, whether it's making sure to get enough sleep or finishing up last minute wedding details. Plan the night of the bachelor party. It's best to stay in one place, so that everyone can travel together and keep an eye on things—but if that's not possible, make sure to have multiple people at each destination so that one person can drive home safely while another takes care of any business they may need done at home (like watching over young children).
Excellent Bachelor/Bachelorette Luxury Bus Rentals
We have a wide variety of party bus options. We have a fleet of luxury buses and limousines that you can choose from. The size of your party bus depends on your needs. When you contact us, we will help you find the right size for your Bachelor/Bachelorette Party! Our company has been in business since 2016 and has given hundreds of people around Tulsa their dream bachelor or bachelorette party experience! We have been rated as the best bachelor party bus service by many different customers over the last few years, so it's easy to see why. If you're ready for an unforgettable night out with friends or family members, then look no further than Party Bus Tulsa!
We're Here For You
If you're looking for a bachelor or bachelorette party bus, limo service, or night out on the town with friends, we're here to help. Our professional team can answer any questions you have about our vehicles and services. We offer everything from classic cars and town cars to SUVs and luxury buses. If you want something that will make your special day even more unforgettable, we also offer party buses for weddings, proms and birthdays. If you are planning a bachelor party in Tulsa or anywhere in Oklahoma City area then be sure stop by Party Bus Tulsa today!
Dependable Vehicle That Is Worth the Trip
The vehicle is reliable. It is not just a party bus, it is also a limousine. The vehicle is in good condition. It won't break down on your way to the location of your bachelor party. The vehicle is safe to drive and ride in as well as comfortable for everyone on board with you during the trip or drive there and back again from where ever you are going to have your party at if that's not where we pick up from then we will drop them off at their final destination before returning home the same day (if possible). Clean inside and out! We want our customers to feel safe inside our vehicles because they can see how clean they are through their windows so when people look into ours they'll see nothing but happiness which contributes towards making their experience unforgettable!
When should I reserve?
It's best to reserve your limo service as soon as you know what you want to do, and how many people are going. Party Bus Tulsa has a long waiting list for popular vehicles and times, so booking in advance gives you the best chance of getting exactly what you want.