Party Bus Tulsa is your trusted choice for Limo Service and party bus rentals for your birthday night. We offer an extensive fleet of vehicles to ensure that you'll find the perfect fit for your special occasion. Whether it's a night out with friends, or a sweet 16 celebration, Party Bus Tulsa has the best vehicles in Tulsa to make sure that your event is truly extra special. We have been providing transportation services to our customers and they love us. We are proud to be a business in Tulsa, OK and love serving our community. Our goal is to make sure that every customer leaves happy by providing top-class service and transportation solutions at affordable prices. We have worked hard to build up our fleet of vehicles over the years and we are excited about what our future holds! Our current fleet includes Hummer limousines, stretch limousines, Escalade limos, mini buses, charter buses, motorcoaches and more! We also offer luxury party transportation services on demand through our mobile app which allows us to quickly respond to your needs with the most efficient solution possible.
Tulsa Party Bus & Limo Service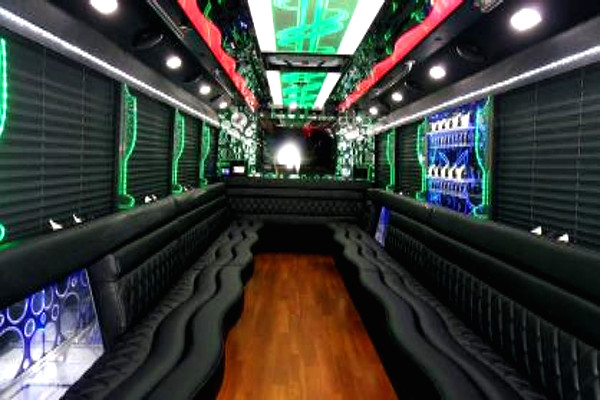 Make Rental Reservation | Check PricingLimos, Party Buses, Shuttles
Celebrate any birthday with our birthday party bus rentals in Tulsa. There are different kinds of party buses and limos that our agency offers on hire. The birthday party buses, in particular, are limo coaches with different party amenities on board. These can vary from entertainment facilities, refreshments, games and other kinds of conveniences. We offer birthday party bus packages as well. Many parents have found our party coaches useful for their children's birthday parties. You can certainly have a great celebration about town in these coaches. You could also book one of our rides about town among charter buses and others.
Birthday Party Buses & Limo Rentals Near Me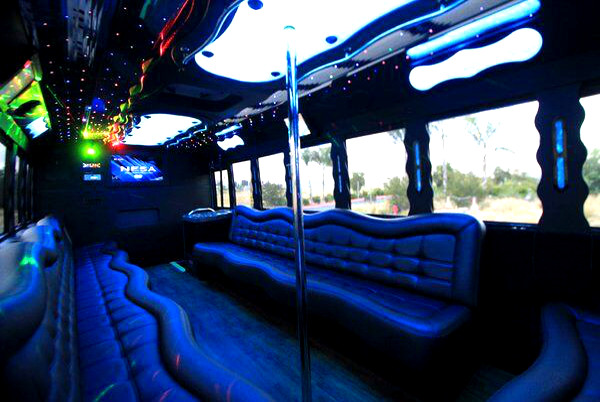 View Party Buses NowParty Buses & Limos
It is easy to book one of our birthday party bus rental Tulsa. Our agency listing is easy to find in the rental directories. All you need to do is find our online catalog to view the party bus models and amenities on offer. You could quickly place a booking through the phone numbers of our agency.
The passenger party buses that serve as wedding bus transportation could be your birthday party ride as well. We vary the amenities on board the birthday party buses to suit the varying requirements of our customers. Most people choose a bus or coach depending on their requirement. For instance, they might want to hire motor coaches, shuttle buses or charter buses. These can seat passengers from 14 to 50 in number.
There are different kinds of limos and premier rentals for hire under our limo service Tulsa. There are diverse models for rent such as Chrysler 300, BMW, Hummer Limos, Ford Excursion, Lexus, Cadillac Escalade, Mercedes-Benz, and others. These rentals are popular for weddings, trips about town for special events and others.
Avail of our party school bus rental for larger groups. For smaller groups up to 14, our shuttle buses and limos prove convenient to hire.
Birthday Party Bus And Limo Service Prices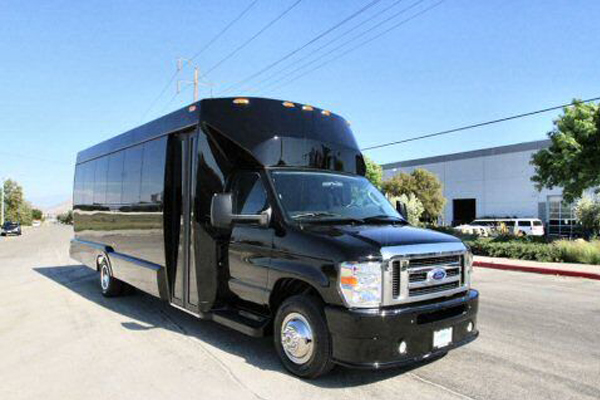 View Limousines NowLimos & Party Buses
There are reasonable prices on offer for the party buses and limos from our agency. You could even book the travel packages from our agency. Avail of discounts from our agency on bulk bookings and others. The rents in general vary as per the number of people traveling, hours of hire, distance to cover and amenities to use.
Things To Do
There are several places worth visiting in and around Tulsa such as:
BOK Center; here you will find games and concerts to watch and enjoy.
Philbrook Museum of Art; it is a mansion with scenic gardens to enjoy.
Gilcrease Museum; check out Western and Native American artwork here.
Tulsa Zoo; here there are animals as well as a train ride to try out.
Kids will love to combine a sightseeing tour with our party buses for birthday parties.
Additional Service Areas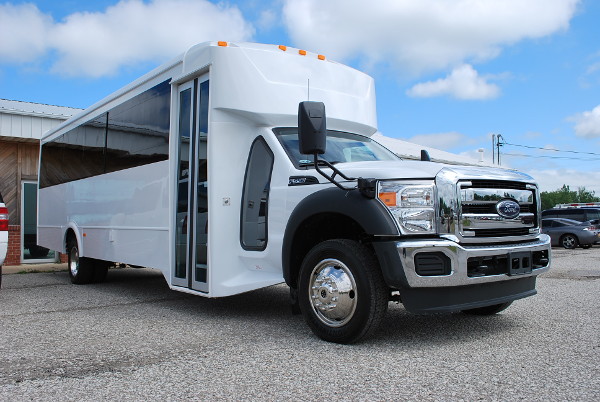 View Party Buses NowParty Buses & Limos
Book one of our rides to visit places in and around Tulsa such as Coffeyville, Ponca City, Claremore, Sapulpa, Broken Arrow, Bixby, Jenks, and others.
Birthday parties are a great way to celebrate turning a year older. You get to see your friends and family and you can even wear your birthday hat. Party bus Tulsa has been helping people plan their birthday parties for years now, and we would like to help you with yours! We offer a variety of transportation options so that we can provide what works best for you and your group. If you are looking for an affordable way to get around town safely with your friends on your special night then call us today at (877) 246-4669.
First of all, what is a party bus? A party bus is a large vehicle that has been converted into an entertainment space. It can be used for parties, weddings and other events. The most common type of party bus available in Tulsa is one that seats around 30 people—the perfect size for your birthday! The difference between a limo and a party bus is that the former tends to be smaller than the latter and therefore will only fit about 10 to 20 people comfortably. Plus it often comes with tinted windows so you don't have to worry about hiding from paparazzi on your night out! A charter bus is also different from either type of vehicle as it does not have any seating at all! Instead this type of vehicle has been designed specifically for transporting groups who want to travel together in comfort (think sports teams or senior citizens).
Why Choose Party Bus Tulsa?
We offer the most reliable and affordable transportation in Tulsa. No one can beat our prices, and our customer service is second to none. We have some of the best buses, limos, and party buses in town.
Perfect Transportation Solutions On You Special Night
Once you have decided to hire a party bus Tulsa, the next thing you need to consider is where are you going. What is the venue? Is it big or small? Are there any special requirements like parking or loading dock access? You may have also thought about the transportation aspect of your event. This should not be overlooked as this can affect your decision when choosing a party bus Tulsa because they will help provide a great night for everyone involved. You should always remember that hiring one of these services will allow people who are attending your event to get there safely and on time, which means that they will be able to enjoy themselves without worrying about how they're going to get back home again afterwards
Affordable Pricing on Rentals
The Birthday Party Bus and Limo Rentals From Party Bus Tulsa have affordable pricing on rentals. Prices are based on the size of the group, number of hours you rent the vehicle, destination of the party, and number of people in your party.
Travel To The Fun Spots in Tulsa
Will Rogers Memorial Center hosts the annual Will Rogers Festival of the Arts, which takes place in April. The festival offers art exhibitions and sales from local artists, as well as a wide selection of food vendors and live music performances. The Gilcrease Museum is a great place to visit if you want to learn more about Oklahoma's history or enjoy some beautiful artwork. The museum hosts numerous special events throughout the year, including an annual car show where hundreds of cars are on display for visitors to admire. You can also catch an art-themed movie at the Oklahoma Film Society inside this museum during your stay here! If you're looking for some fun things to do in Tulsa, River Spirit Casino is definitely worth checking out! This casino has over 1,200 slot machines available along with more than 120 table games like blackjack and roulette tables where you can have fun playing with friends or other visitors while enjoying drinks that include beer selections such as Budweiser products (which are made locally).
Perfect Birthday Locations In Tulsa
The Tulsa Zoo-The Tulsa Zoo is a great place for you and your guests to explore. It features more than 1,200 animals from all over the world, including lions, tigers and bears! The zoo also offers special events throughout the year. If you want to learn more about these special events before planning your birthday party at the zoo, check out their website. Tulsa Botanical Gardens-A trip to the Tulsa Botanical Gardens will provide you with plenty of room to roam around and plenty of beautiful scenery as well! The gardens have gardens that are themed like different parts of the world such as Africa or Asia. You can also visit one of their many beautiful fountains while celebrating at this location! The Performing Arts Center (PAC) is another great place for hosting birthday parties in Tulsa because it has so many different rooms available for rent – from small meeting rooms where only 20 people can fit in at a time all the way up through large ballrooms where several hundred guests could come together for an event such as this one would be perfect!
What Are Birthday Party Buses?
What is a Party Bus? A party bus is a vehicle that has been modified to include many entertainment and seating options. This can include televisions, jacuzzi tubs, video games, and even stripper poles! A party bus differs from other types of limousine rental in its ability to accommodate larger groups of people (typically 10+) as well as its added amenities. The extra space also gives you the chance to bring along some food or drinks for your group while you're traveling together. If you need help planning your next birthday party celebration this year, give us a call today!
How Getting Limo Service Will Make Your Birthday Night Great
There are a number of ways you can take advantage of your limo service. First, think about the places that you want to go during the evening. Are there any restaurants that you've been wanting to try? Is there a special concert or show that has been on your radar for some time? Think about how the limo service is going to help make these experiences better for everyone involved in your party.
Which Bus Rental Is Right For My Group?
Party buses are the best choice for groups of 10-12 people. If you're planning a bachelor party or bachelorette party, and your group is smaller than 10 people, then a party bus will be your best bet. Limos are the best choice for groups of 13-20 people. Whether you're attending prom or just celebrating a milestone birthday with friends or family, you'll need something bigger than a regular bus to accommodate everyone comfortably. Charter buses are the best choice for groups of 21-50 people. You don't have to rent out an entire charter bus if there are only a few dozen people in your group—you can reserve any vehicle from Party Bus Tulsa and get it sent directly to where it needs to go!
Get There Safely With Us
When you book with us, you can rest assured that we are a fully insured company. We have been in business for over 20 years and have a great reputation in Tulsa. We also have a fleet of over 100 vehicles including luxury limos and party buses. Our drivers are trained professionals who will give you the best experience possible while they drive you safely to your destination. With our extensive experience, we make sure that all of our drivers get regular training so they know how to handle themselves under pressure when driving on busy roads or highways during peak traffic times. Party Bus Tulsa is also family owned! We take pride in knowing that our customers are receiving service from people just like them who love giving back to their community by offering affordable transportation services for special occasions such as weddings or birthdays.
Our Fleet of Limousines and Party Buses
If you're looking to rent a party bus, limo or even a van for your next birthday celebration, don't worry—we have you covered. At Party Bus Tulsa, we have a large selection of vehicles to choose from so you can find the perfect ride for your event! You can choose from many different types of buses:
Stretch Limos
Mini Buses
Hummers and H2s (extremely popular)
Call us and book your limo, party bus, or charter bus. We will confirm your reservation and payment with you on the phone or in an email to you. If you prefer, you can use our online form to make a reservation instead of calling us directly if you prefer that method of communication. We will be there at the time that we agreed upon when making the reservation to pick you up at home or work so that we can drive together on our journey!
Our Pricing and Rates Explained
Party Bus Tulsa's pricing is based on the number of passengers you have, the type of bus you want to rent, how many hours you would like the party bus to be there and whether your event is an once-in-a-lifetime special occasion or a more casual birthday celebration. When it comes to numbers, we can accommodate anywhere from 10 people up to 55! But first things first: when counting your guests make sure they're all adults (21+). There are no exceptions here because this is an important safety rule that our drivers must follow. With that being said, if all of your friends aren't able to drink alcohol then don't worry, they'll still be able to enjoy themselves on board while sipping on sodas and juices provided by Party Bus Tulsa. Once we know how many people need transportation from one place or another then we'll determine which type of vehicle works best for everyone involved in order for us serve them as best possible throughout their stay with us during their special day/night out with friends/family members/and coworkers alike.